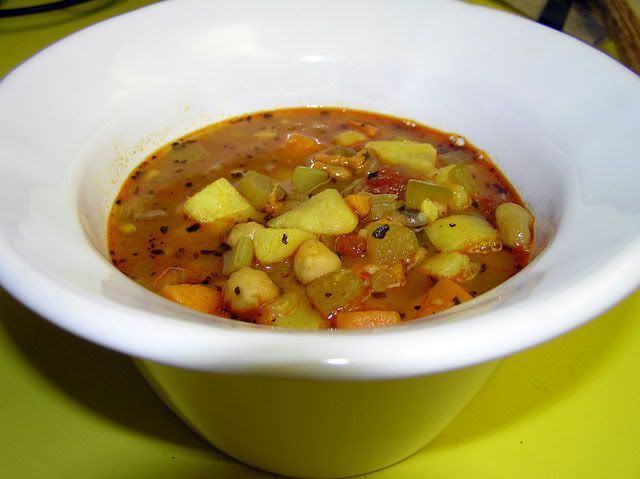 Leslie's Soup of the Gypsies
~serves a lot (use a 6qt pot)~
2T (or less) olive oil
1 large onion, chopped small
3 stalks celery, diced
3-4 cloves garlic, minced
1 green bell pepper, diced
2 sweet potatoes, peeled, diced small
1 large or 2 small yams, peeled and diced small
2t paprika
1t ground tumeric
1t basil, dried
1t sea salt
black pepper to taste
1/8-1/4t cinnamon, ground
1/8t cayenne pepper, ground
1 bay leaf
5-6 cups water1 bullion cube or stock equiv.
1T tamari
2c chickpeas (or a 25oz can)
15oz can great northern beans (or white beans)
1/2 can diced tomatoes
My variations include: one time I didn't use northern beans, just a lot of chickpeas, the next time I also didn't use any tomato, which I prefer.
The second time I made this I also used 3 purple potatoes which made the soup even more colorful along with a jewel yam and garnet yam, both locally grown at the co-op. My green bell pepper was also locally grown at an aquiantance's home.
Method: Heat olive oil in the soup pot over medium to high heat. Saute the onion, garlic, celery, green bell pepper and sweet potato (or equiv) for about 10 minutes, until semi-soft. Season with paprika, tumeric, basil, salt, cinnamon, cayenne, salt and pepper and the bay leaf. Stir to blend and then add the water, bullion and tamari. Cover and simmer over low heat for about 20 minutes or until potatoes are soft. Add beans and tomatoes if using and simmer for another 10 minutes, uncovered, until all the veggies are tender. If they aren't close to being tender, keep the lid on for a bit longer. Remove the bay leaf and consume.